Webinar instructions
two-column page
Thank you for your interest in PHCP webinars!
Visit the time zone calculator to figure out what time this webinar starts in your time zone.
The host will be available for a sound and equipment check and to help with any technical difficulties, 30 minutes prior to the webinar start time. If you don't expect to have any issues we would still like to have you there 10 to 15 minutes ahead of start time to check in and make sure everything is working correctly. If you are experiencing technical issues please log out and then log back in.  Many viewing issues are related to your internet speed. Please make sure you are the only person streaming the data in your household to minimize audio latency issues.
We highly recommend you use both headphones with a mic and that you have a telephone available as back-up. It is frustrating for you to miss out on any part of the webinar. The telephone number will be provided in the GoToMeeting invitation. Please keep it handy. If you need a local phone number, please let me know in advance. Also, make sure to keep yourself muted during the presentation to avoid distractions. The presenter or host will guide you about how to ask questions during the presentation.
Please be aware that if you pay for the webinar less than 24 hours in advance, we cannot guarantee that you will get an access code in time. If the presenter allows recording, you will be able to view the recording for 2 weeks following the presentation. If the presenter does not allow recording, you will be refunded.
Thank you for your help. A prompt start time will benefit us all.
PHCP Webinar Hosts
Christina Krueger
570-460-3731
chriskrueger14@gmail.com
Jeannean Mercuri
631-434-5032
neanpiggy@me.com
New to GoToMeeting?
Download the app on you device ahead of time.
Click the link in the webinar invite, at the appropriate time, to enter the meeting.
Once you have entered the webinar you will see some control options along the top and bottom.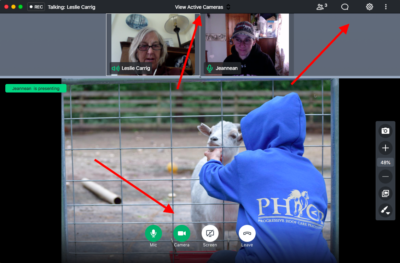 You must float your curser over the bottom controls for them to appear. You can mute and unmute yourself here and turn on and off your video camera. You may need to change your mic and camera settings in your computer preferences first, if you have them turned off.
At the top in the center you may choose how you want to view the webinar.

At the top right side you can see who is attending, open the chat box, and select settings for mic, camera, and screen width options.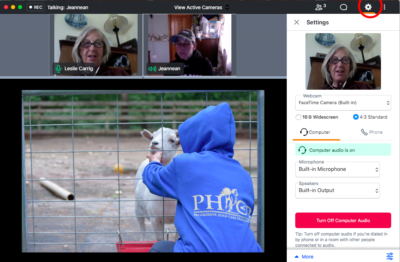 This is a newer version of GoToMeeting so sign on early to familiarize yourself with it.