An educational foundation for hoof care professionals and horse owners.
Our mission
Progressive Hoof Care Practitioners is a 501 (c) (3) non-profit organization whose mission is to provide a supportive network and educational foundation for hoof care professionals and horse owners based on a holistic and progressive approach to equine hoof care.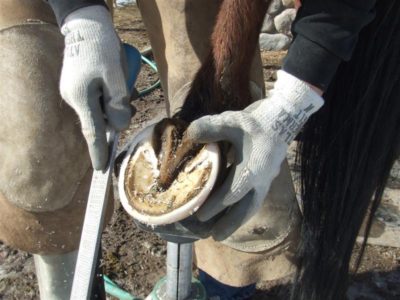 Our origins
PHCP was founded on March 2, 2008, during a meeting of dedicated hoof care professionals in Sacramento, CA. Founding members recognized the need for a quality, yet affordable education program for upcoming hoof care providers as well as a supportive community for established professionals.
Our members
The PHCP membership is composed of individuals from diverse backgrounds. Many members and students have had successful careers in other fields, bringing diverse life experiences to our work with horses. The collective experience of PHCP practitioners represent many years of experience on thousands of hooves under every imaginable condition. Anyone wishing to become a member please visit our members page. We welcome everyone in the organization, whether you are looking for certification or just support.
Our training
Progressive Hoof Care Practitioners has developed a solid training program based on non invasive trimming methods and the latest research in hoof health. The PHCP Chat group and private Facebook group provide forums where students and practitioners can ask questions and share information on any topic pertaining to equine health and well being. Continuing education and professional growth is at the heart of the PHCP organization. Exploration of new ideas and approaches to holistic hoof care are strongly encouraged. Training takes place across the United States and in some parts of Canada.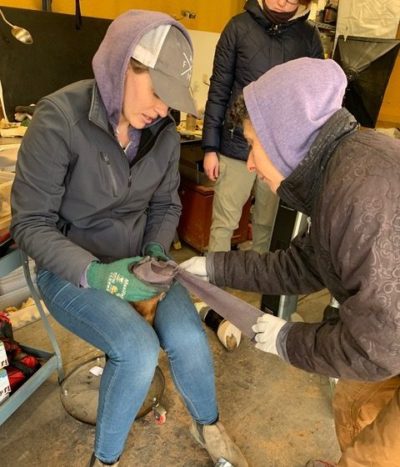 Scholarship fund
In addition to – or in lieu of – joining PHCP, we welcome donations to our Education Scholarship Fund. You can set the desired amount after clicking the link below. If you'd prefer to donate by check, please mail to Progressive Hoof Care Practitioners, 17007 North Triple Butte Circle, Colbert, WA 99005.
Frequently asked questions
Where is PHCP located?
This organization has its roots in the California region. We have members all over the country and the world. We have beginning clinics in various locations around the country. We also offer many webinars online.
What is a supporting member?
Supporting members are members who are not seeking certification. All PHCP members have full access to members-only content on the website, the PHCP forums and member rates for webinars and other educational events.
Do I need to take all the clinics?
When you join we will assess your experience and education as a hoof care provider and determine which clinics and mentorships you will need. We give credit for experience and clinics when it makes sense, but we will also make sure you are not missing any pieces of your education.
Do I have to take the anatomy clinic before I can do a mentorship?
We are flexible in this area. Many students want to get started right away and not wait until clinics are available. Some students find that doing a mentorship before the anatomy clinic gives them a better perspective in the dissection. Some students are not comfortable doing a mentorship until they have the anatomy clinic under their belt. A lot depends on the amount of experience each student has when they join. Your interviewer will help you decide on the best plan for you.
What if I don't feel ready to take on clients after the beginning clinics and mentorships?
The number of mentorships listed in the training program is a minimum. If your final mentor at each stage (Beginning, IS, Advanced) feels you need another mentorship, they will make this recommendation. Students should feel free to do as many mentorships, including multi day, as they want. They will receive evaluations and credit for them all.
How much are dues and when do I pay them?
There is a one time initiation fee of $40 to be paid with your registration form in addition to annual dues of $60, for a total of $100. You are required to subscribe to auto-renewal at the time you join. Each year, on that date, your dues of $60 will be paid through an automatic payment. Cancellation of your annual dues subscription will result in termination of your membership.
What happens after I fill out the membership form and pay the fee?
You will receive a receipt for your initiation fee and annual dues. You will also receive a password, which you may reset, to login to the website and visit the private forums. If you are enrolling in the training program an Enrollment Committee member will contact you to set up an interview time.
What if I don't pass the interview?
Only new members wanting to participate in the Training Program will be interviewed. The interview is designed to answer your questions and give you some guidance on how to get started with the training program. Everyone is welcome in PHCP, whether they are seeking certification or not.
What are the benefits of membership?
You will have access to the Forums. This is a great place to share information and ask questions. You will be able to advertise your business on our web site as a Student Practitioner, Advanced Student Practitioner or Practitioner. Student Practitioners and Advanced Student Practitioners are required to do a minimum of one mentorship each year or a media presentation in order to maintain their listing on the website. You will have the support of the organization in furthering your hoof care education and the benefit of mentors who have many years of experience. PHCP also offers continuing education, semi-annual conferences and many outreach opportunities at a reduced price for members.
What can I expect on the forum?
The forum is a friendly safe place where you can ask for help and information on any horse or hoof care subject. There are no dumb questions. Members range from beginning students to experienced mentors and everyone is welcome to participate. It is a great place to share hoof photos and cases where you would like some input from other hoof care providers. It's a very active forum and we strive to make all our members feel comfortable there.
Can I join if I shoe horses?
Yes! We are open to everyone. Anyone with a desire to learn should join PHCP.
How do I set up a mentorship?
You will contact the mentors of your choice directly to set up and discuss details of the mentorship. Most mentors charge $150 for the day. You will be trimming at the mentorship and receive a detailed evaluation of your work and progress.
Will I need to travel?
Yes, you will need to plan on traveling. How far you travel will depend on where you live, what clinics you attend, and what mentors you would like to work with. We highly recommend that you take advantage of our great mentors in several regions.
What is the full cost of the certification program?
The total cost of completing the training program will vary widely from student to student. Factors such as the level you enter and the amount of travel needed according to your location will determine this. Estimate your total costs to complete certification.
How long does it take to become certified?
This is up to you. We have no time limit on our training program. Many members have joined just wanting to trim their own horses and eventually started collecting clients. Many members have kept their "real" jobs for a number of years but eventually reached certification and left that desk job far behind. Our program is flexible enough to accommodate everyone's needs. When you do reach certification you will be well educated and confident in your work.
PHCP Board of Directors
Christina Krueger / Board Chair, President
Ruthie Thompson-Klein / Secretary
Marie Daniels / Treasurer
Kathleen Coleman / Director of Education
Leslie Carrig / Dean of Students
Maia Chaput / Member at large
Miranda Fior / Member at large
Monica Floeck / Member at large
Jeannean Mercuri / Member at large