tabbed child pages, columns
It's not working!
First of all, having difficulty with anything on this website does NOT make you stupid or hopeless. There are NO stupid questions. Chances are, something your browser, computer, tablet or smartphone is doing for you "automatically" is making your life difficult. Check out the FAQ below to see if the solution to your problem is here. If you're still having trouble, please email help@progressivehoofcare.org and we'll get back to you asap.
I haven't received my password reset link via email
If you've requested a password reset via the Log In page Forgot Password link, it's probably in your Spam, Updates or Promotions folder (some email applications do "auto-sorting" of your email, too). You can also check whatever folder your email application uses for "all mail". The email will be from wordpress@progressivehoofcare.org so you could also search for that email before contacting us.
After I have logged in and try to load the new Forums page, my browser takes me to the old Forum page
This is most likely happening because your browser has a setting enabled that causes it to "help" you by auto-completing the URL (otherwise known as the web page "address") you are typing in. If you have ever typed in https://progressivehoofcare.org/forum it is removing the "s" from the new URL (/forums). You might have experienced this when you try to type in another URL for some website you've previously visited and don't end up where you expected. You'll need to read the following info about browser caching to see how to fix the problem.
How to empty your browser, tablet or smartphone cache
The browser cache is the "static" (unchanging) version of a web page that your browser, computer, tablet or smartphone creates and saves to make a website load faster on your next visit. Sometimes, though (like maybe now), you don't want to see the "old" version – you need to access a page that has been changed since your last visit. Time to empty your cache, which used to be easy to do, but modern browsers (on computers and on smartphones or tablets) often bury this option in their menus or don't do a complete job. Tablets and mobile phones are especially fond of hoarding caches, by the way – this website never serves up a "cached" page to mobile devices but your phone or table doesn't care, so it does. Here are instructions and links for doing this on the most popular browsers and devices.
Google Chrome / Apple Safari / Mozilla Firefox
Opera / Internet Explorer / Microsoft Edge
I can't log in – my browser keeps entering my old or invalid password
Cookies are files created by your web browser, at the request of a website, that are stored on your hard drive. They keep track of your visits and activity to deliver you better user experiences when you next visit. When you log in or fill in forms (like when purchasing an item online), a cookie is created as you go from step to step during a "session" (which is what any interactive time you spend there is called). Sometimes this creates a problem for you when you have a new password for a site you've already logged in to (like this one), so you need to erase not only your browser cache but any cookies that are hanging around as well. You can often choose to clear cache and cookies at the same time and you can usually view any saved cookies in your browser settings or preferences file, from within the browser.
Visit this link to learn how to clear cookies on major browsers.
tabbed child pages, columns
A few tips.
Subscribe
When you subscribe to a forum like the Chat, Classifieds, or The Feed Room, you will receive notification when a new topic has been posted to that forum.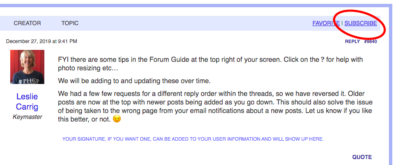 To receive notifications of replies to a particular thread,  you must subscribe to that thread.
Add noreply@progressivehoofcare.org to your address book so these notifications don't end up in your spam.
Update your profile
You can add and edit your avatar, user information, and signature by clicking on the settings icon in the upper right corner of your screen. Your location will show below your avatar which is helpful for users, so please keep this updated. This information, including your website, will also appear in the Members List.
Members list
A list of all current members can be seen, when you are logged in to the website, by clicking on the list icon next to the ? icon. You can sort this list, to easily see who is in your area, by clicking the little arrow next to state or country.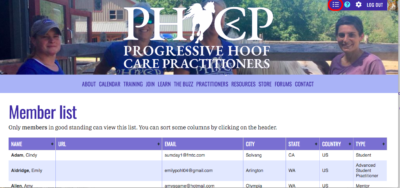 Thread layout
The initial post in a topic will be at the top of that thread with a border around it.  The reply posts will run down from there in ascending order, going from older to newer as you go down the page.
Start a new topic
Scroll to the bottom of the page below all the listed topics within a forum to start a new topic.
Pasting in text
When you are pasting text into a post, that you have copied from another source, please select the paste as text icon first. (it is the T next to 🙂 ) This removes all kinds of weirdness that can arrive from the source of the text.
Adding a link
It's nice for viewers if links you may add to your post open in a new window. Here's how to do that. Click on the little edit pencil next the link you added and then select Link Options. Click the Open link in new tab box and update.



Adding photos and attachments
A wide variety of document types may be attached to your post. These are listed in the attachment area. Note to Mac users: Pages documents will not upload, so change these to a Word doc or pdf before attaching.
The limit on attachments is 30 per post.
Resizing images
Images must be no larger than 4.88MB. Learn how to resize here before uploading.
Photo and Picture Resizer is another good option for an Android device
Editing images
You can use the free versions of these online photo editing tools to re-crop, touch up or create the right sized image.
Set file caption
Once you have resized and selected your attachment you can name the file. (example: RF/BT) This will show up under the thumbnail in your post making it easy for viewer to go directly to the correct photo.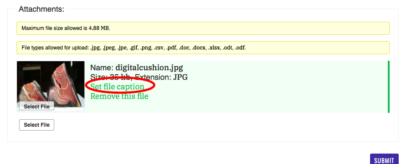 Before you hit submit
If you have put time and energy into crafting a long response or asking a detailed question it is always wise to copy that text before you hit the submit button. Just in case! Sometimes the post will time out while you are carefully writing your Q or A and when you submit, you lose it.  So frustrating! If you have copied you can simply paste and then submit. 😀
Editing your post
Spelling boo boo? Don't worry you can edit your post after submitting it.
The time limit on editing your post has been extended to 1 year. This allows you to add updated hoof photos to your initial posting for easier comparison.
tabbed child pages, columns
Thank you for your interest in PHCP webinars!
Visit the time zone calculator to figure out what time this webinar starts in your time zone.
The host will be available for a sound and equipment check and to help with any technical difficulties, 30 minutes prior to the webinar start time. If you don't expect to have any issues we would still like to have you there 10 to 15 minutes ahead of start time to check in and make sure everything is working correctly. If you are experiencing technical issues please log out and then log back in.  Many viewing issues are related to your internet speed. Please make sure you are the only person streaming the data in your household to minimize audio latency issues.
We highly recommend you use both headphones with a mic and that you have a telephone available as back-up. It is frustrating for you to miss out on any part of the webinar. The telephone number will be provided in the GoToMeeting invitation. Please keep it handy. If you need a local phone number, please let me know in advance. Also, make sure to keep yourself muted during the presentation to avoid distractions. The presenter or host will guide you about how to ask questions during the presentation.
Please be aware that if you pay for the webinar less than 24 hours in advance, we cannot guarantee that you will get an access code in time. If the presenter allows recording, you will be able to view the recording for 2 weeks following the presentation. If the presenter does not allow recording, you will be refunded.
Thank you for your help. A prompt start time will benefit us all.
PHCP Webinar Hosts
Christina Krueger
570-460-3731
chriskrueger14@gmail.com
Jeannean Mercuri
631-434-5032
neanpiggy@me.com
New to GoToMeeting?
Download the app on you device ahead of time.
Click the link in the webinar invite, at the appropriate time, to enter the meeting.
Once you have entered the webinar you will see some control options along the top and bottom.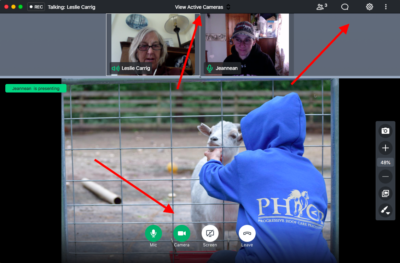 You must float your curser over the bottom controls for them to appear. You can mute and unmute yourself here and turn on and off your video camera. You may need to change your mic and camera settings in your computer preferences first, if you have them turned off.
At the top in the center you may choose how you want to view the webinar.

At the top right side you can see who is attending, open the chat box, and select settings for mic, camera, and screen width options.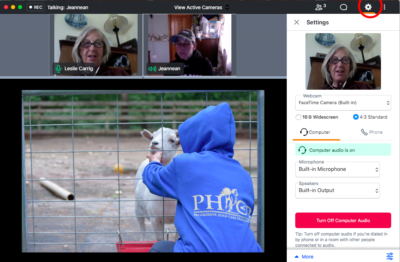 This is a newer version of GoToMeeting so sign on early to familiarize yourself with it.