directory page
single directory profile view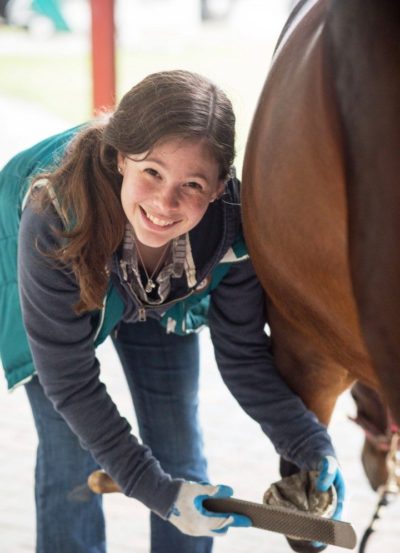 Website
http://www.solepurposehoofcare.com
Region
Location: Seattle, WA (US)
Serving: WA
Contact
Corrie Mannion
★★
Advanced Student Practitioner
I grew up in the suburbs of Chicago and started riding at a young age. I volunteered to ride misbehaving horses at our local boarding barn and enjoyed adventures on trail with my smooth, speedy, and stubborn Appy mare more than jumping in the show ring.
My journey into the world of barefoot began in the early 2000's when I bought my first horse, Cheyenne. She was shod in front and toed in on her RF. She developed a habit of tripping and stumbling, which became concerning and potentially dangerous. A friend mentioned we should try barefoot, so we pulled her shoes and found a barefoot trimmer.
Wanting to learn more, I attended a hoof dissection clinic in 2002 in Bartlett, Illinois with Martha Olivo. I enjoyed it, but I remained the owner who just held the lead rope and chatted with the trimmer while she worked. I didn't know why exactly "barefoot was best," I just knew that was what worked for my horse.
Fast forward to many years later, I managed a barn in Virginia while finishing my undergraduate degree. I fell in love with a horse there and he was the first horse I trimmed. A trimmer well-versed in the Hoof Guided Method (Maureen Tierney) visited, taught me how to use my tools, and then I was on my own. I obsessed over any little signs of progress while nursing this horse through an extensive stall rest and rehab process (non-hoof related). But it was too late, I had caught the trimming bug and from then on I was trimming, studying, staring at hoof pictures, and pursuing my hoofcare education. I was lucky to live a few hours away from Paige Poss and a client of mine who was also learning to trim joined me for roadtrips to train with her. Though I began my trimming business in Virginia, I relocated to Washington within a year and had to start all over again.
Currently, I am adjusting to city life in Seattle, loving working with my clients, and hiking with my dog on the weekends. I am taking new clients within 1.5 hours of Seattle or if you're already near an existing client. I enjoy walking owners through the transition process from shod to barefoot. I prioritize being a resource to my clients. I am the best fit as a hoofcare provider for owners who want their horses on a regular trim schedule, who may need a patient person for stiff and arthritic horses, or who want to learn more about their role in healing their horse's feet.