single default post
PHCP Practitioner Spotlight – Kathy (Ladendecker) Coleman
Kathy is a PHCP practitioner and is the Director of Education. She has been a member since 2017.

Tell us a bit about yourself and how you got started in hoof care
I got a pony for my 11th birthday and have owned horses ever since.  I was very active in Pony Club and did lower level eventing and dressage.  I discovered natural horsemanship and along with that found natural hoof care and started basic trimming on my own horse when I got stood up yet again by a farrier.
As luck would have it he said my horse didn't need shoes and pulled them before he disappeared.
I learned from Jamie Jackson's old VHS videos and spent a lot of time on Paige Poss's very new Iron Free Hoof website.  It was the birth of barefoot trimming, and I was on my own learning as much as I could.
Later I acquired an Andalusian x Peruvian Paso mare and had a crash course in EMS/IR when she foundered badly.  I enlisted the help of a local barefoot trimmer to rehab her.  Because of this horse I found the ECIR Group for help on diagnosis, diet, and trim, and I found Pete Ramey. I ordered his books and DVDs and attended a clinic, all of which made a huge impact on my education.
When I moved to a new area, my equine dentist told me I should go shadow with Geri White in New York.  After spending several days with her I became interested in trimming full time and joined PHCP in 2017. I have learned so much that I never would have learned without the PHCP program and have helped so many horses and owners thanks to PHCP. I now have a thriving business that I absolutely love.  I was a scholarship recipient and enjoy contributing back to PHCP and helping to bring up more educated trimmers to help more horses.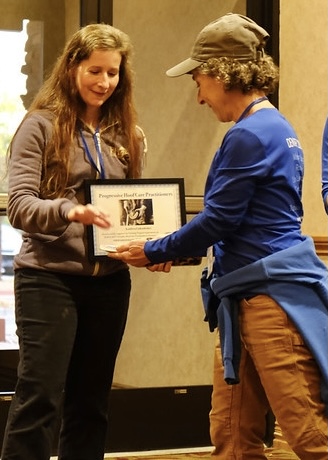 What is your favorite thing about being part of PHCP
The focus on continuing education is outstanding. The network of horse and hoof crazed geeks that are willing to help each other is just amazing. Friendships are born easily with people who have so much in common, and no one is left lost in their own little world without support. This job is not easy, and the personalities within PHCP help make it a lot of fun.
What are your interests besides all things hooves
I love nature, being active, outdoor adventures, and getting creative in the kitchen (when it's not too nice out). I play with my own horse including some classical dressage and work in hand, always bitless.
Tell us something people may not know about you
I formerly worked in the technology industry in power quality and then industrial automation.  It was cool stuff and great people, but I just can't be indoors sitting in a chair all day.  I also built a custom passive solar post and beam house and was the general contractor.  I love creating things and playing with tools.