single default post
PHCP Mentor Spotlight – Ruthie Thompson-Klein
Ruthie Thompson-Klein
PHCP Mentor, Board of Directors, Scholarship Committee Chair, and a member since 2011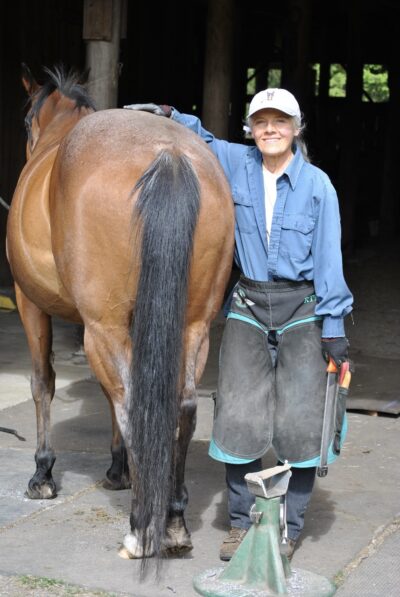 Tell us a bit about yourself and how you got started in hoof care
Like many of us, I grew up with horses but lost the continuity for a decade or so when "real life" intervened. My interest in all things equine returned when we pared down and began a caretaking job on a 60-acre island farm. Bingo, horses reappeared! I realized I didn't have enough lifetimes to revisit becoming an equine vet or trainer, so I chose a practical application and necessary service: hoof care.
I enrolled in horseshoeing school in Montana in the winter of 2002 with roaring forges and frozen hooves (the live kind). After that experience everything has been relatively easy. After 8 years of shoeing, I re-trained for whole-horse hoof care and certified with AHA in 2011 and with PHCP soon after in 2012. I'm now a PHCP Mentor, (mostly retired) Practitioner, Board and Scholarship committee member.
What is your favorite thing about being part of PHCP
Our expanding hoof geek peer group community, always ready with knowledge and support, and opportunities to learn something new every day.
What are your interests besides all things hooves
I don't stray far from contact with horses—riding, training, transporting, working with young equestrians, consulting —but when I do it's outdoors growing food, fungi foraging or indoors perfecting my vegan gourmet chef shtick. I maintain a yoga practice to keep up with my (mostly younger) human and equine friends.
I am also a squeaky wheel in my community for multi-use equestrian trails and am a trained oil spill first responder for wildlife rehab and environmental mitigation.
Tell us something people may not know about you
In a recent former life with my industrial engineer partner, I designed educational interactive exhibits for science centers, museums and aquariums. We built and designed exhibits for the first animatronic dinosaurs in North America and created dark rides for Universal Studios. I find horses and horse people easier to work with!