Learn about the Evo and the Equine Fusion Hoof Boots in these free webinars
Coming up this Saturday we are offering a free informational webinar about the Evo Hoof Boot, for those exploring their boot options.

The Equine Fusion webinar has been rescheduled
The Equine Fusion webinar is rescheduled for August following technical issues last weekend. Our apologies for any inconvenience this may have caused.
Visit the calendar page for dates, information and details on how to register for these events.
NO Laminitis Virtual Conference
Don't wait to register for this important event hosted by the ECIR Group. This will be a virtual conference with recordings available to attendees for 6 months.
With 10% to 15% of horses suffering from laminitis, every hoof care practitioner and horse owner needs to attend. 80% to 90% of these cases are caused by endocrine disease. The ECIR Group has assisted thousands of horses and their caregivers in understanding the importance of diagnosis, diet, trim, and exercise to improve the welfare of equines with metabolic disorder.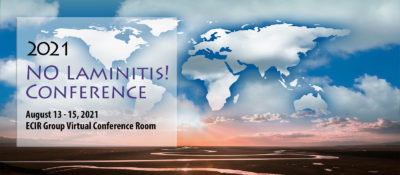 PHCP is supporting this event as a Platinum Benefactor.  Our members will receive 20 Elective or CE credits for attending and this fills the IR/Cushing's course requirement.
Visit the NO Laminitis Conference page for more information and to register. The great line up of speakers includes PHCP members Paige Poss and Pete Ramey.
Make a donation to the PHCP Scholarship Fund
Seven lucky PHCP students have been awarded scholarships this year to help them complete their training. We will award a new group of students next year and appreciate donations of any size to support this.