directory page
single directory profile view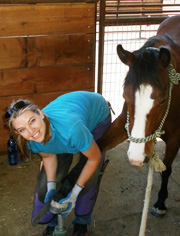 Website
http://www.wildheartshoofcare.com
Region
Location: Ventura, CA (US)
Serving: CA
Contact
sossity@wildheartshoofcare.com
805-432-9891
Sossity Gargiulo
. . .
Practitioner, Mentor
I started trimming horses when my own mare went lame and I started to look deeper into the 'why' of traditional horse care.  This led me on a life changing path of learning I never could have predicted!  I then joined the AANHCP, and later became a founding member of the Pacific Hoof Care Practitioners.  I was also certified by the American Hoof Association in 2008.  My husband Mario became a PHCP Practitioner and Mentor, and then an AHA Practitioner as well, and together we have run a successful hoof trimming business in Southern Ca.  In 2012 we were fortunate enough to start working with Shannon Peters elite dressage horses, including her husband Steffen Peters' Olympic mount, Ravel, who we still have the honor of trimming.  We continue to work with Shannon's as well as Akiko Yamazaki's dressage horses, and were featured in a Dressage Today article on the subject of barefoot performance horses.  We also trim endurance horses, working western, pleasure, pasture ornaments, retirees, etc.  In addition to trims we offer casting and glue on boot services, we sell the California Trace supplement and I also put out an almost monthly newsletter.  We service primarily Ventura County and the schedule is booked tight.  We are accepting new clients on a waiting list basis, and email or text is the best way to reach me. Please feel free to reach out again if you don't hear back from me right away – sometimes the messages get buried.
For PHCP mentorships, I charge $150/day. I can work with all levels of students, from beginner to advanced, please contact me via email to set up a mentorship and work out the details.
Primarily serving Ventura County.