directory page
single directory profile view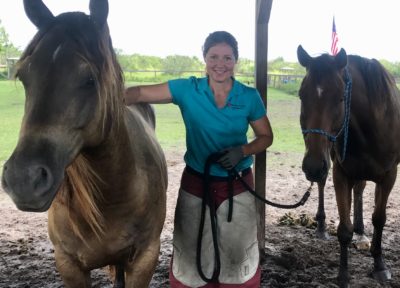 Organization
Wendy Jordan Hoofcare LLC
Region
Location: Vero Beach, Florida (United States)
Serving: FL
Contact
wjordan9156@yahoo.com
772 480 3819
Wendy Jordan
Advanced Student Practitioner
Wendy Jordan Hoofcare LLC
Serving Florida's Treasure Coast: Nearly a Decade of Professional Experience
Focus of Interest: Rehabilitation, Laminitis and Founder, Transitioning from Shoes
to Barefoot, and Maintenance Care
EasyCare Inc. Dealer
As an equine hoof care provider in the Sunshine State I focus my professional energy on the barefoot horse. The barefoot horse is a lifestyle. This lifestyle links all aspects of horse husbandry and care to the animal's health, & longevity. Being a life long equestrian and horse owner I found equine hoof care the next step to helping my personal horses live their best lives ever.
My journey into hoof care has taken me down a delightful path. With specialized training and many years experience in the medical aesthetics industry, the foundation for understanding the marvels of skin and tissue had begun many years prior. It was never a leap of faith to step into the hoof care world, it just seemed like the natural next step. As my father always said, If you love what you do, you will never work a day in your life. I have never heard or lived a truer statement as I find myself working along side and helping these amazing animals.
As a perfectionist I constantly want to dig deeper and desire a greater level of mastery, continuing my education is the logical next step. PHCP is an outstanding program and resource, focusing on hoof health and whole horse care. I believe PHCP reflects my standards of care. This is exactly why I have aligned myself with this outstanding program.
If you reside on the Treasure Coast of Florida and have an interest in the barefoot horse lifestyle or would like to learn more about the marvels of the barefoot horse
Call or Text me today
772 480 3819