single learning post
Exploring the Equine Hoof
Ida Hammer of  Whole Horse Trimming presents this introductory course for beginners.
This is a five hour lecture using a power point and preserved cadaver specimens. It is scheduled the day before her Beginner Trimming clinic and it's recommended you take these together if you are new to natural hoof care.
Topics covered:
Heel first vs. Toe first landings
The inner structures of the distal limb and what influences them: diet, exercise, proper trimming, environment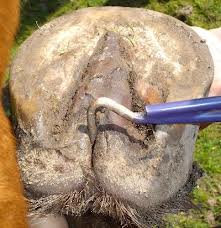 Pathologies: club foot, founder, navicular, white line disease, thrush
This class counts as a PHCP Elective.
Signup
Visit Whole Horse Trimming to register
Contact Ida Hammer for more information
If travel and social interactions are not advisable at the time of the clinic, due to COVID-19, all payments will be refunded.  Your safety is important to us.
Type Beginner clinic
With Ida Hammer
Where Congerville, IL
When August 15, 2020
Cost $75.00
Education credit 5 credits
All clinics
All clinics are open to the public.