single learning post
Reading Radiographs for the Hoof Care Professional
This clinic is postponed. Check back for new dates.
This is a hands on Radiograph clinic with Allison Williges DVM
This clinic fulfills the Reading Radiograph requirement for PHCP students.
As a hoof care provider it is important for you to have a basic idea of what to look for in a radiograph and how it may effect your trimming decisions.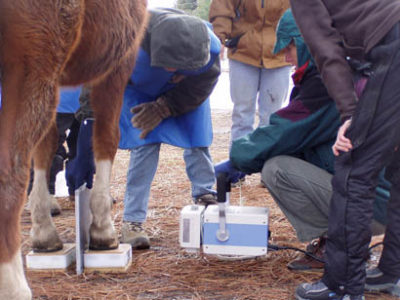 In this hands on clinic you will learn how to read radiographs to improve your trimming skills and create better balance in the equine distal limb. Learn anatomy, terminology, which views to take and why, how to mark the hoof, and more! We will be working on live horses.
Prerequisite
Visit Anatomy of the Equine and purchase the Apps or Ebooks. Spend time on this web site and get familiar with the distal limb anatomy before you attend this clinic.
Signup
Contact Jeannean Mercuri (631-434-5032) for further clinic information as well as travel recommendations and available lodging.
PayPal or Venmo payments to neanpiggy@me.com or send checks to:
Jeannean Mercuri
The Hoof Fairy LLC
103 Woodlot Rd
Ridge, NY 11961
Please note that there is a $75 deposit requirement to reserve your spot in the clinic. If there are not enough attendees and the clinic is cancelled, deposits will be refunded immediately.
If travel and social interactions are not advisable at the time of the clinic, due to COVID-19, all payments will be refunded.  Your safety is important to us.
Type Beginner clinic
With Allison Williges DVM
Where Ridge, NY
Cost $150.00 / $200.00 Non-member
Education credit 10 credits
All clinics
All clinics are open to the public.