single learning post
Beginning Anatomy and Dissection
This clinic is postponed. Check back for new dates.
Previously radiographed cadaver legs will be utilized to study anatomy and trimming clues through dissection, followed by trimming on live horses.
This clinic fulfills the Beginning Anatomy clinic requirement for PHCP students.
Prerequisite
Visit Anatomy of the Equine and purchase the Apps or Ebooks. Spend time on this web site and get familiar with the distal limb anatomy before you attend the clinic.
Meals will be provided.
If possible, students should bring their own tools (gloves, apron, nippers, rasp, knife, hoof pick and stand) but we will have some to share if need be especially for those flying.
Jeannean Mercuri lives on Long Island where she operates her hoof care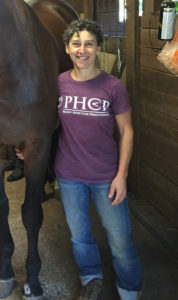 business. She began her journey into barefoot trimming in 2001. She joined PHCP in 2009 and went on to become a Mentor, Clinician and Director of Education in our training program. She is a Certified American Hoof Association member and is heading up their education team as well. Teaching and continuing her own education are passions for Jeannean. Years of working with Gerdas Equine rescue in Vermont and referrals from local Veterinarians on the tough founder cases have given her extensive experience with hoof protection in her rehab work as well as for clients needing hoof boots for everyday riding.
This year a hands on Reading Radiograph class will take place on the 6th at this same location. Check out the details in the Electives page.
Signup
Contact Jeannean Mercuri (631-434-5032) for further clinic information as well as travel recommendations and available lodging.
PayPal or Venmo payments to neanpiggy@me.com or send checks to:
Jeannean Mercuri
The Hoof Fairy LLC
103 Woodlot Rd
Ridge, NY 11961
Please note that there is a $75 deposit requirement to reserve your spot in the clinic. If there are not enough attendees and the clinic is cancelled, deposits will be refunded immediately.
If travel and social interactions are not advisable at the time of the clinic, due to COVID-19, all payments will be refunded.  Your safety is important to us.
Type Beginner clinic
With Jeannean Mercuri
Where Ridge, NY
When August 9, 2020
Cost $150.00
Education credit 8 credits
All clinics
All clinics are open to the public.