single learning post
Pete Ramey two days clinic
Topics covered

Laminitis Treatment
Caudal Foot Pain (Navicular Syndrome/Disease)
Nutrition and the Hoof
Heat-Fitting Hoof Boots
Glue-On Synthetic Shoes
Estimating Sole Thickness
Evaluating Caudal Foot Integrity
Balance
Basic and Advanced Trimming Technique
Plus Other Issues Presented by the Demo Horses
Plus Plenty of Question/Answer Time to Cover Whatever the Participants Need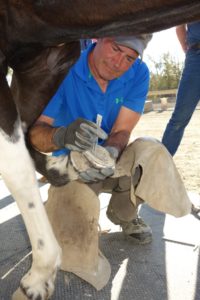 In the horse world, Pete Ramey (hoofrehab.com) probably needs no introduction! After an initial start shoeing horses, he became aware of the deficit of hoof knowledge, management of pathological hooves, and trimming instruction to be found in the pages of farrier texts. In 1998 Pete's friend Cindy Sullivan introduced him to the concept of natural hoof care. Very quickly, he realized he was learning about the hooves themselves like never before, and that many of the unanswered questions were being answered. In 2000 Pete wrote his first book "Making Natural Hoof Care Work for You," followed by his very popular and well attended clinics and an array of trimming videos including 16 hours of in depth education in the DVD series "Under the Horse." Pete has always been driven by the desire to help horses and shorten the learning curve of professionals by providing easy to understand how-tos of hoof care. In 2011 Pete's second book was published, the comprehensive and critically acclaimed "Care and Rehabilitation of the Equine Foot." Pete is a founding member of the American Hoof Association. Along with traveling internationally for clinics, Pete and his wife Ivy run a busy hoof rehabilitation business and live in the Georgia mountains with their family.
Signup
Visit Pete's website HoofRehab to register and for more clinic dates and locations.
Type Elective
With Pete Ramey
Education credit 20 credits
All clinics
All clinics are open to the public.