single learning post
Glue On Hoof Protection Clinic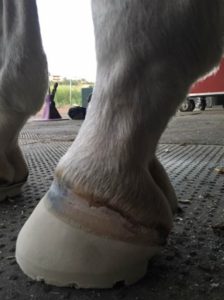 We all love hoof boots for their versatility, cost effectiveness and hoof health benefits. But there are also circumstances where a removable boot is difficult for the horse's caretakers for a variety of reasons, or perhaps impractical or even not allowed in a given riding discipline. That is when a glue on, semi-permanent hoof protection option becomes an excellent tool to have in your tool box.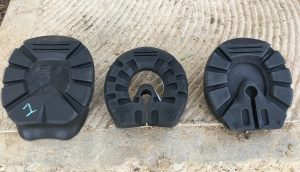 There's definitely a learning curve with applying glue ons for the most efficient and successful experience for all! Attending this clinic will help you avoid some common, frustrating and expensive pitfalls so you can apply glue on hoof protection with confidence. While there are many different glue on options available today, we will focus on a few models that we feel will help you the most with their success and versatility. You will learn the when, why, where and how details of applying the EasyCare glue on shell and the EasyShoe NG models.
The skills you gain from these 2 shoes and glue methods will also transfer to many other glue on shoe options available.
Clinic details
AM
PowerPoint discussion and lecture with photos covering the various products and techniques for padding, packing, modifying and addressing specific needs and pathologies in the hoof. We will provide handouts as well as examples of the products, where you can buy them, and how and when we recommend you use them.
Demo application of the EasyShoe NG on a live horse, using EasyShoe Bond.
Demo application of modified, heat fit glue on shells on a live horse, using Vettec Adhere.
Lunch will be provided on site.
PM
Gluing participants will be assigned a Blacksmith Buddy hoof model which they will then glue on the shoe or shell of their choice, using the gluing method of their choice. Heat fitting and other modifications are encouraged! If time permits the participant can remove their glue on and apply the other type or use a different glue.
All attendees please bring your own chair, notepad and pen.
Gluing Participants please bring your trimming apron, knives, rasp, and nippers as the Buddy hooves can be trimmed prior to gluing.  You are welcome to bring your stand as well, but it isn't a requirement.  If you have a hoof buffer, mallet, and glue gun, please feel free to bring them!  We will be providing glue, tips, glue guns, glue on shells, EasyShoes, nitrile gloves, some pour in and other padding options, and Buddy hooves.
Sossity and Mario Gargiulo of Wild Hearts, are PHCP Founding Members, Practitioners and Mentors, who have glued hoof protection on horses ranging from therapeutic applications to the top levels of dressage competition.
Signup
Cost to audit only is $75. Please contact Sossity for more information.
Type Elective clinic
With Sossity & Mario Gargiulo
Where Canada Larga Ranch, 3501 Canada Larga Road, Ventura, CA 93001
Cost $175.00
Education credit 10 credits
All clinics
All clinics are open to the public.