single learning post
Beginning Anatomy and Dissection
This clinic begins by introducing students to the anatomy of the lower limb. Preserved specimens and bones will be examined followed by trimming and dissections of cadaver legs. Common pathology will be discussed.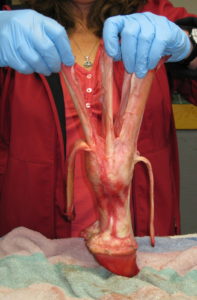 Prerequisite
Visit Anatomy of the Equine and purchase the Apps or Ebooks. Spend time on this web site and get familiar with the distal limb anatomy before you attend the clinic.
This clinic fulfills the Beginning Anatomy requirement for PHCP student.
Signup
Contact Ann Szolas to sign up or for additional information. A $75 deposit is required 6 weeks prior to clinic to confirm your clinic attendance and hold your spot. The clinic will be confirmed or cancelled by email on this date, according to attendance numbers, so attendees may make travel arrangements. If there are not enough attendees and the clinic is cancelled, deposits will be refunded immediately. $75 of total payment is non-refundable.